Pricing & Apartment Categories

Rates 360° VR
Apartments
L & D
2 + 2 Guests
1 Bedroom
1 Living Room
1 Kitchen
1 Bathroom
1 Terrace
55 square meters
Prices from
€520
for 7 Nights per Apartment
Apartments
L1 & D1
4 + 2 Guests
2 Bedrooms
1 Living Room
1 Kitchen
1 Bathroom
3 Balconies
62 square meters
Prices from
€595
for 7 Nights per Apartment
Apartments
L2 - D3
4 + 2 Guests
2 Bedrooms
1 Living Room
1 Kitchen
1 Bathroom
3 Balconies
62 square meters
Prices from
€595
for 7 Nights per Apartment
Apartments
L4 & D4
4 + 1 Guests
2 Bedrooms
1 Living Room
1 Kitchen
1 Bathroom
3 Balconies
58 square meters
Prices from
€595
for 7 Nights per Apartment
Apartments location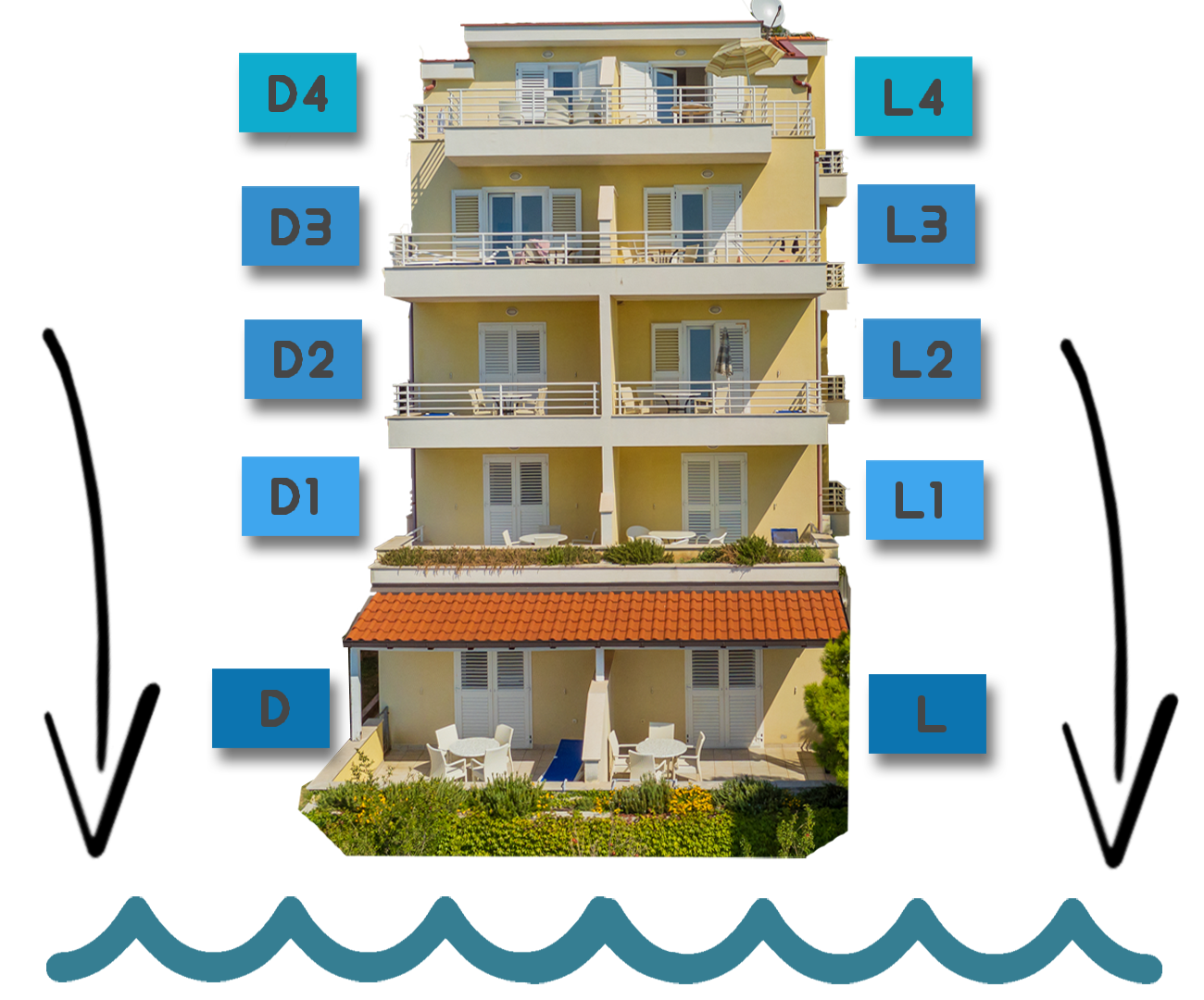 RACK RATES
until 01.May 520€
01. May - 19. May 590€
19. May - 15. June 770€
15. June - 01. July 1090€
01. July – 31. Aug. 1295€
31. Aug. - 13. Sept. 1090€
13. Sept. - 03. Oct. 790€
from 03.Oct 640€
until 01.May 595€
01. May - 19. May 670€
19. May - 15. June 945€
15. June - 01. July 1270€
01. July – 31. Aug. 1680€
31. Aug. - 13. Sept. 1270€
13. Sept. - 03. Oct. 945€
from 03.Oct 770€
Prices for 7 Nights per Apartment (Saturday - Saturday)!

A deposit of € 50 will be charged for the sun loungers and parasols!

Maximum capacity per apartment 4 guests + 2 additional guests on a sofa bed (additional € 10 per person per night)!

The local tax is not included in our prices. It is collected on site depending on the season and age of the travelers.


Included in the price:
✓ Rental fee,
✓ Final cleaning,
✓ Air conditioning,
✓ Bed linen,
✓ Bathroom towels,

✓ Gym (Kettler equipment),
✓ WiFi,
✓ 2 sun loungers and a parasol
(deposit: EUR 50),
✓ 1 Parking spot (part. Video surveillance),

✓ Use of the beach house
(beach shower , locker, barbecue area),
✓ Barbecue area behind the villa,
✓ Borrowing an iron,

---
---
Contact
We look forward to your inquiry
Address
Lovrina vala 10, 21318, Marušići, Croatia
Call Us
Mobile: +43 664 175 00 00
Reception: +385 91 222 07 27
Fax: +43 1 890 408 315
Email
fam.zuzul@gmail.com
Plan arrival
---